Toll free:  800-343-6437
Email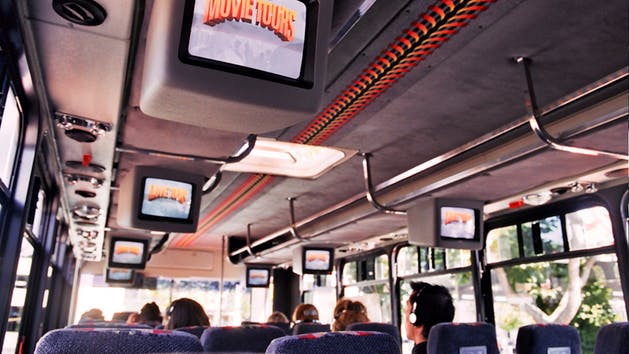 Whether you're looking for an introductory scenic tour of the area, an alternative to attractions you've already seen or an exciting rainy day option, Monterey Movie Tours® is your ticket to a star-studded getaway! This fascinating two-tours-in-one outing features both magnificent landscapes and blockbuster scenes from some 200 movies filmed across the Monterey Peninsula.
Winding through Monterey, Pacific Grove and Carmel, this scenic tour also stops along the stunning 17-MILE DRIVE® in Pebble Beach. The three-hour adventure takes place aboard a multimedia Theater-On-Wheels® – a customized luxury motor coach with high-back seats, overhead video screens and personal headsets. As you glide past sites made famous on the big screen, you'll hear behind-the-scenes stories of Hollywood glamour.
This spectacularly fun land tour begins in downtown Monterey where one of our most historic sites, Colton Hall, has stood in as a girls boarding school in the movie A Summer Place and a court house in the movie The Big Bounce. Our Fisherman's Wharf area has been used for scenes in several movies including I Cover the Waterfront, Play Misty for Me, The Candidate and P.K. & the Kid.
Travel through historic Cannery Row that has been the setting for many movies over the years including Clash by Night starring Marilyn Monroe and Barbara Stanwyck, and a few scenes in the movie, you guessed it, Cannery Row! Star Trek IV: The Voyage Home was filmed at our world-famous Monterey Bay Aquarium where Humpback whales were held in captivity…. no, just kidding here! Only Hollywood and the magic of special effects can make that happen!
Lookout onto Monterey Bay where sailing scenes were filmed in the movies Captains Courageous and Mutiny on the Bounty. And, least we forget one of our most memorable movies… Monster from the Ocean Floor (once you've seen this monster you'll see why it should have been left on the cutting room floor)!

View the City of Pacific Grove and its majestic coastline that was turned into the fictitious town of "Cypress Grove" in the movie Turner & Hooch. The resort seen in A Summer Place is also located in this picturesque coastal community.