Fandango's Exterior View  
223 17th St.
Pacific Grove, CA 93950
Phone:  831-372-3456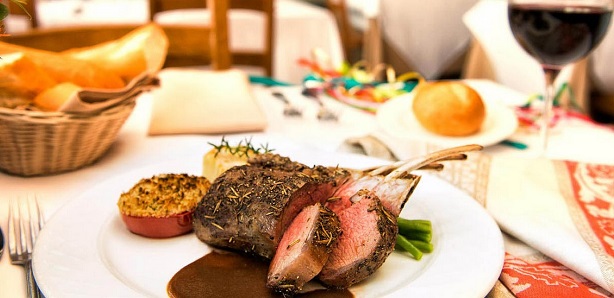 Fandango Restaurant, located on the beautiful Monterey Peninsula in the heart of Pacific Grove, California. The family-owned restaurant, conveniently located near Monterey and Carmel, stands for a heritage of good taste, craftsmanship of award winning cuisine and 25 years of tradition.  Serving Monterey and Carmel, Fandango's has become a favorite restaurant for locals and visitors alike.  They specialize in creating a unique and enjoyable fine dining experience, presenting a lunch, dinner and Sunday Brunch menu that features Mediterranean and European style cuisine.  They offer inventive dishes inspired from ingredients around the globe including fresh seafood and hearty pastas, mouth-watering steaks and their signature rack of lamb. Whether it's for your private event, wedding rehearsal dinner, banquet or for that special occasion for just the two of you, Fandango Restaurant will prepare a tantalizing meal perfectly paired with our extensive wine selection. Let Fandango's delectable dishes and attentive service transport you to a European Bistro without leaving your own backyard! Call to make your reservation today 831-372-3456
Life at Fandango—like the dance it was named for—continues to be sometimes fast and often furious. But most important, it's always fun.
In 1983, Walter Georis converted a charming old house in Pacific Grove into the restaurant Fandango. Among his first patrons were Pierre and Marietta Bain. Pierre was then manager of Club XIX at The Lodge at Pebble Beach working with Executive Chef Pedro De La Cruz. Although Fandango's homey European atmosphere contrasted with the elegance of Club XIX, it struck a chord with him. His family has operated the Grand Hôtel Bain at Comp-sur-Artuby in the south of France since 1737!
In 1986 Walter sold Fandango to the Bains who reopened the restaurant at the end of the year with Pedro De La Cruz their head chef.
Since then Fandango's ambience has remained constant, although there have been a few major physical changes. A few years back the Bains added an upstairs dining room, complete with its own kitchen. In the summer of 2001 they converted the outdoor patio into a new private dining room. Today, along with its two main dining rooms, Fandango has five private dining rooms, the smallest seating eight people and the largest seating fifty.