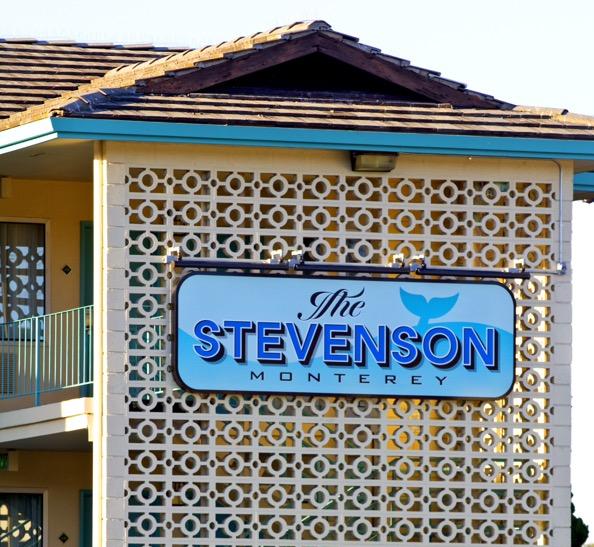 675 Munras Ave 
Monterey, CA 93940
Phone: 831-373-1876
Fax: 831-373-8693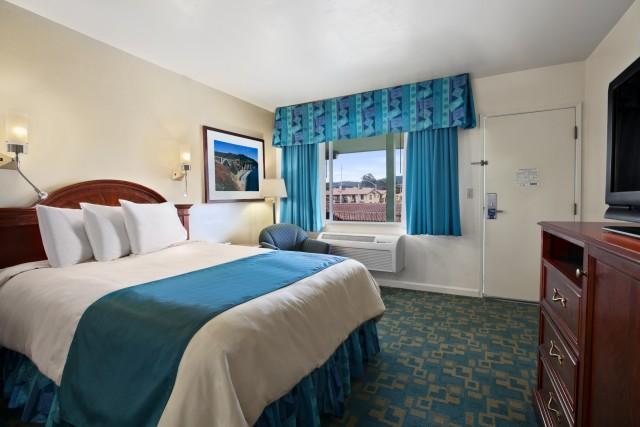 The Stevenson Hotel is located in Downtown Monterey and is in a convenient location for you to walk to numerous attractions and award-winning restaurants. Stroll over to Monterey's Fisherman's Wharf and enjoy the sights and sounds of Monterey Bay or indulge in some of the best seafood restaurants you'll find on the West Coast. At our Downtown Monterey Hotel, you'll enjoy free high-speed wireless internet access, free indoor and outdoor parking, and free daily continental breakfast to start your day off on the right foot.
The Stevenson Hotel offers two convenient room types, so whether you're visiting on a romantic getaway or with your family, we'll have the right room for you. The first room type is a 1 Queen Bed room that can accommodate up to three people, and the second is a 2 Queen Beds room that can accommodate up to five people. Rooms are equipped with a variety of amenities including air conditioning, wireless internet, 32-40″ flat panel TVs, alarm clock, iron, ironing board, lamp, safe, hypoallergenic pillows, hairdryers, and more.
The Stevenson Monterey puts you within walking distance to Fisherman's Wharf, as well as, the Monterey Conference Center. With all that Monterey has to offer, you'll also be just around the corner from Cannery Row, Del Monte Beach, Carmel By-The-Sea, Monterey Bay Aquarium, Pebble Beach, 17 Mile Drive, and so many more attractions. You'll have plenty of things to do and attractions to see when you visit Monterey.
Monterey is most commonly known for its famous seafood restaurants such as Bubba Gump Shrimp Company (which you may have seen in the movie Forest Gump), Abalonetti Seafood Trattoria, and Monterey Fish House to name a few, but there are so many other cuisines to enjoy as well. Some of our favorites are Old Fisherman's Grotto, Rosine's, Alvarado Bar & Grill, Cibo's, Wild Plum, Krua Thai, Great Wall, Restaurant 1833, Montrio Bistro, and Ambrosia India Bistro – There's definitely something for everybody.
No matter what time of year you visit, Monterey will provide you with beautiful views and the lovely ocean sounds. Enjoy golf, wineries, marine life, food, and more when you visit Monterey whether it's for business or pleasure. Our fun and friendly staff at The Stevenson Hotel in Downtown Monterey await your arrival!